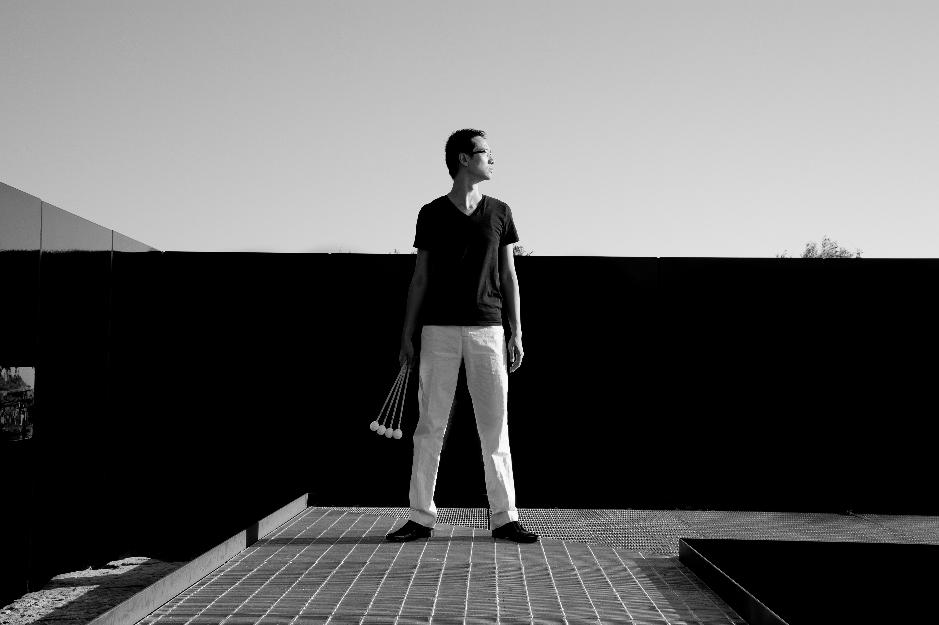 News
07 November 2015

I am happy and super excited to let you know that my second CD has been completed! The title of my new CD is 'A Composer's Portrait: Soar'. As you can probably guess, it's a CD of my own works. It is an 18-track CD containing more than 60 minutes worth of music.
The official launch will be held in the School Hall of Chatswood High School in Sydney, Australia at 2:00 PM. If you don't live in Sydney or live overseas, you can purchase the CD on this website under 'Shop'.
If you're attending PASIC 2015 in San Antonio, USA (11 November - 14 November), the CD will also be present at the Edition Svitzer booth (#408).
You can purchase this CD and/or any other products of mine directly from this website or at any major percussion store.



11 May 2015

I am proud to present the Australasian debut performance of Askill Percussion Duo along with my duo partner, Anna Zeltzer!
This concert is part of the inaugural Sydney Marimba Weekend (SMW), bringing the event to a close. We will be joined by specially selected, outstanding SMW participants. The concert is open to the public so please bring friends and family to support not only us but the SMW participants too!
On the programme is a range of solo and duo works from Sculthorpe, Abe, Piazzolla, Sammut, Stopa, Oetomo, Ford and many more.
The concert will be held in the school hall of Chatswood High, Sunday 24 May at 2:00pm. Tickets will be available at the door, cash only: $20 Adult, $10 Concession. I look forward to seeing you there!
For more information about the concert, please comment here or email askillpercussionduo[at]gmail[dot]com
For more information about the Sydney Marimba Weekend, please visit the Facebook page or email sydneymarimbaweekend[at]gmail[dot]com

05 January 2015

I would, first of all, like to wish you music-lovers a very wonderful and happy new year! May this new year be filled with even more blessings, joy, success, good health, peace and love for you and those around you!
Second of all, I would like to apologise for the lack of updates on my website recently. It has been a surprisingly busy end-of-year for me in so many different ways; moving and basing myself back in one of the most (if not, the most) beautiful part of the world, my home always, Sydney, Australia.
There are a couple of very exciting music-making things happening for me in 2015, which includes the making and eventually, the release of CD #2, publishing works that are currently in the pipeline (including the compulsory 2nd round Australian solo marimba work commissioned by the 2015 Australian Marimba Competition and its committee in Melbourne, Australia), numerous solo and concerto concerts, and also a couple of marimba festivals.
An exciting announcement that I would like to announce is the recent collaboration with Steve Weiss Music (Willow Grove, PA, USA) and Just Percussion (Brisbane, Australia). You can now purchase my works published by Edition Svitzer through these stores; yes Australian folks, purchase my works FROM AUSTRALIA!!!
Speaking of works published by Edition Svitzer, the 2nd volume of Four Fantasies is now published! This is the most recent publication since my marimba concerto (also published by Edition Svitzer) which was published mid-year of 2014. Please check it out at your nearest music store. This particular collection of works are very special and close to me, in that, these works are the last few works I wrote whilst my time studying and living in Germany.

Please visit my website every now and again, as there are still a handful of events that are still to be confirmed for 2015!


01 August 2014
It is with great pleasure and honour to announce my involvement at the 1st Qingdao International Percussion Festival 2014 in Qingdao, China. There, I will sh
are the festival with wonderful musicians like my close friend and colleague, Fangge Lu, my marimba teacher, Jasmin Kolberg and many other wonderful musicians including world-famous drummer, Gregg Bissonette.
If you are around in Qingdao, China between 16 and 24 August by any chance, pop by and say hi, or attend a masterclass or two, or even a concert or two. I will personally be playing in a concert on 17 August.
Hope to see you all there!!
Special thanks to Fangge Lu and crew (for everything!), Zhicheng Lu (for the beautiful poster) and my endorsers; Edition Svitzer, Encore Mallets, Inc. and Tapspace Publications.



21 July 2014
After many many hours of work, energy and sleepless nights (to say the least), I am happy to announce that my first-ever marimba concerto (Soar: Concerto No. 1 for Marimba and String Orchestra) composed in 2012 and received its world premiere performance in 2013 by Impronta - Ensemble für Neue Musik and myself as soloist, has just been published and released today by Edition Svitzer! For more information, here is the direct link to Edition Svitzer's website: http://editionsvitzer.com/archive_valgt.php?id_vaerk=253

Check it out and let me know what you think! Click on the link below to watch a clip of the chamber ensemble version performed on 27 May 2014 in Neustadt Saalbau, Neustadt an der Weinstraße, Germany.
05 June 2014
I am happy and proud to announce my new association with another wonderful publishing house, this time in Portland, Oregon, USA. Today, Tapspace Publications released my arrangement of Arlen's Over the Rainbow for solo marimba. It is available for purchase either directly from their website (http://www.tapspace.com/mallet-solos/over-the-rainbow/) or through their many distributors around the world.
Please also check out the new video recording (click here!) I recently did of this arrangement. It was recorded at the Kolberg Factory Showroom in Uhingen, Germany, with a very special marimba;
a custom white frame/gold resonator 5-octave "Avantgarde" Kolberg marimba.
Special thanks to Kolberg Percussion for letting me use their exquisite showroom space, and their beautiful marimba.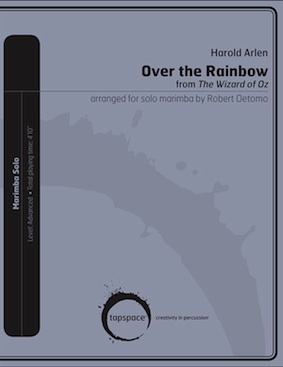 03 May 2014
Two of my compositions (Three Chorales (vol. 2) and Album for the Young) published by Edition Svitzer were reviewed in the May 2014 edition of Percussive Notes. I am very happy with the review they gave the individual pieces!! Please check out the pieces on www.editionsvitzer.com, and I look forward to your own personal review on them! See the individual reviews below:
Three Chorales for Solo Marimba (vol. 2) by Robert Oetomo

Australian percussionist Robert Oetomo's Three Chorales, volume 2 captivates the mature four-mallet marimbist and listener alike through three tonal chorale settings for marimba.
"Chorale Fantasy" is a 50-measure, A-major chorale with an indicated tempo of 68 bpm. This chorale explores the lowest register of the five-octave marimba with beautifully schemed harmonic substitutions that enhance and stabilize the overall A-major phraseology (although the final chord contains an added harmonic second). This chorale is dedicated to the memory of the composer's grandfather, and you can sense the dignified pathos associated with his memory.
The second chorale, "Lasciato," is in G major with an opening and ending in the lowest register of the marimba and a middle section that is higher in its tessitura. Smooth rolls are a necessity to communicate the intent of this chorale, whose title is translated as "relinquishment." It is also full of introspective harmonic beauty.
The third chorale, "Nimrod," is based upon Edward Elgar's famous theme from his "Enigma Variations for Orchestra." This 42-measure chorale in E-flat major captures Elgar's dignified lyricism.
Any one of these chorales would be a superb addition to the mature percussionist's recital.
— Jim Lambert (Percussive Notes, May 2014)
Album for the Young by Robert Oetomo

Inspired by Schumann and Tchaikovsky, Australian composer Robert Oetomo has assembled a collection of short, original programmatic works that offer sincere musical possibilities to the four-mallet marimbist. Dedicated to his two nephews, the title of each work (or "miniature") reflects an aspect of early childhood: "The First Steps," "Peek-a- Boo," "Chucking a Tantrum," "Sweet Dreaming," "Under the Weather," and "And off they go!"
While you need a low C for the entire set of six pieces, three can be performed using a low-A instrument, and one requires a low E. Even though the composer emphasizes that this collection is not intended as a series of technical studies, but rather as performance solos, it is apparent each work is based on a specific technique (double vertical, single alternating, double lateral, rolls, etc.). The publisher lists all levels (beginner to advanced) in this collection so there is something for everyone. However, this does not take away from the charm and musical integrity contained in each movement. Overall, the brevity and accessibility of each section would make it a highly rewarding and encouraging experience. Bravo!
— Jason Baker (Percussive Notes, May 2014)
My new original compositions and arrangements will soon be published by Edition Svitzer. Check out Edition Svitzer's website soon for the new releases, or come back soon on my website to see what new compositions and arrangements are in store! And also, don't forget to check out the other great compositions and arrangements that are published by Edition Svitzer! They have a fantastic collection of works composed by a fantastic collection of composers in their extensive catalogue.
Thank you to Edition Svitzer and personally to Johan Svitzer for your endless and great support in me and my music!



08 April 2014

I am happy and proud to announce that I am now an Encore Mallets, Inc. endorser! I would urge every percussionist (if you haven't tried or heard of Encore Mallets before) to check them out on www.encoremallets.com, or at a local percussion store near you. The likes of great artists, musicians and educators such as Nancy Zeltsman, Naoko Takada, Nanae Mimura and Dr. Douglas Walter are also Encore Mallets, Inc.
endorsers.
They are incredible-sounding mallets, and works well on every kind of marimbas (round, oval or helmholtz resonators). I wrote a little blurb about Encore Mallets on their website recently:
"As a percussionist and a composer, I am all about the sound. Whether I am performing or composing, I look for the best possible way to create the best sound. And it is with Encore Mallets that I am able to produce the best sound on the marimba. I am able to articulate, orchestrate and express whatever it is I have to play on the instrument. It is like being the conductor of a great orchestra; your artistic vision is limitless. Anything and everything is possible with Encore Mallets!"
Go and check them out today!

Upcoming Concerts
Sunday, 17 January 2016 at 05:00 PM
Concert with Duo Almira

Ratssaal, Hauptstraße 58, 67149 Meckenheim, Germany
Monday, 25 - Friday, 29 January 2016
Masterclasses at the Hochschule für Musik Würzburg

Hofstallstraße 6, 97070 Würzburg, Germany
Saturday, 30 January 2016 at 01:15 PM
Resident Composer/Guest Soloist at the Jubiläumskonzert (25 Years) of the Hochschule für Musik Würzburg

Kammermusiksaal, Hochschule für Musik Würzburg.
Hofstallstraße 6, 97070 Würzburg, Germany
Monday, 01 February 2016 at 05:00 PM
World premiere performance of 'Rhapsody II' for Bassoon and Marimba

Kammermusiksaal, Staatliche Hochschule für Musik und Darstellende Kunst, Mannheim, Germany
Past Concerts
Wednesday, 12 August - Saturday, 15 August 2015
2015 Tabasco Marimba Festival


Villahermosa, TAB, Mexico
Saturday, 25 July - Sunday, 26 July 2015
2015 Australian Marimba Competition

Australian National Academy of Music, Melbourne, Australia
Saturday, 23 May - Sunday, 24 May 2015


1st Sydney Marimba Weekend 2015

Chatswood High School, Chatswood, Australia
Sunday, 24 May 2015 at 02:00 PM
Askill Percussion Duo: Australasian debut performance
Chatswood High School, Chatswood, Australia


(Adult: $20/Concession: $10 - tickets at the door)
Monday, 06 April 2015 at 11:00 AM
Easter Monday Service
Johanniskirche, Mannheim-Lindenhof, Germany
Wednesday, 07 January 2015 at 07:30 PM


Mannheimer Schlagwerk - Marimba & More


Ballsaal, Stadthalle Heidelberg, Heidelberg, Germany




(European Premiere of "The Legend of the Golden Snail" - Six Short Episodes for Solo Percussion by Robert Oetomo performed by Anna Zeltzer)
Saturday, 16 August - Sunday, 24 August 2014
Workshops, masterclasses and concerts at the 1st Qingdao International Percussion Festival 2014


Qingdao Grand Theater, Qingdao, China
Wednesday, 06 August 2014 at 06:00 PM
Solo Concert

Innenhof,
Staatliche Hochschule für Musik und Darstellende Kunst, Mannheim, Germany
Wednesday, 23 July 2014 at 06:00 PM
Mannheimer Schlagwerk


Innenhof,

Staatliche Hochschule für Musik und Darstellende Kunst, Mannheim, Germany
Tuesday, 15 July 2014 at 10:00 AM - 06:00 PM
Mannheimer Schlagwerk

Container in Paradeplatz, Mannheim, Germany
Wednesday, 09 July 2014 at 08:00 PM
Abschlusskonzert


Kammermusiksaal, Staatliche Hochschule für Musik und Darstellende Kunst, Mannheim, Germany
Tuesday, 24 June 2014 at 08:00 PM
Solo concert as part of the Evangelische Kirche Johannistag-Empfang 2014

Haus der Evangelischen Kirche, Mannheim, Germany
Tuesday, 27 May 2014 at 08:00 PM
Mannheimer Schlagwerk

Neustadt Saalbau, Neustadt an der Weinstraße, Germany
Tuesday, 20 May 2014 at 08:00 PM
Mannheimer Schlagwerk Orchestra

Alte Feuerwache, Mannheim, Germany
Friday, 16 May 2014 at 06:00 PM
Bläserabend


Kammermusiksaal, Staatliche Hochschule für Musik und Darstellende Kunst, Mannheim, Germany
Wednesday, 16 April 2014 at 07:00 PM
Schlagzeugabend

Kammermusiksaal, Staatliche Hochschule für Musik und Darstellende Kunst, Mannheim, Germany
Friday, 11 April 2014 at 06:00 PM
Bläserabend

Kammermusiksaal, Staatliche Hochschule für Musik und Darstellende Kunst, Mannheim, Germany
Friday, 21 March 2014 at 07:00 PM
Mannheimer Schlagwerk with Jasmin Kolberg

Festsaal, Freie Waldorfschule Filstal,
Göppingen-Faurndau, Germany
Sunday, 26 January 2014 at 11:00 AM
Mannheimer Schlagwerk

Wilhelm-Hack-Museum, Ludwigshafen am Rhein, Germany
Tuesday, 14 January 2014 at 08:00 PM
Mannheimer Schlagwerk

Mathias-Jakobs-Stadthalle, Gladbeck, Germany
Sunday, 12 January 2014 at 08:00 PM
Mannheimer Schlagwerk at the 2nd Drummer's Meeting

Cafe Art, Waldorf, Germany
Saturday, 14 December 2013 at 07:00 PM
Performance of Oetomo's Soar: Concerto No. 1 for Marimba and String Orchestra with Impronta - Ensemble für Neue Musik (Vent d'hiver)

Rotaryclub Ludwigshafen, Ludwigshafen am Rhein, Germany
Sunday, 01 December 2013 at 07:00 PM
WORLD PREMIERE performance of Oetomo's Soar: Concerto No. 1 for Marimba and String Orchestra with Impronta - Ensemble für Neue Musik (Vent d'hiver)

Pfarrkirche St. Josef, Lindenhof-Mannheim, Germany